After reading many raves about the early 80s Marshalls, and having already built a SmallBox 50 watter, I finally succumbed and bought one. It is in very good shape for a twenty-year-old guitar amp, and more importantly, it is dead stock - I think even the fuses are original!
These early 80s models (with the vertical input jacks) use printed circuit board (PCB) construction to hold most of the components, but all jacks, pots, and tube sockets are mounted to the chassis and connected using wires.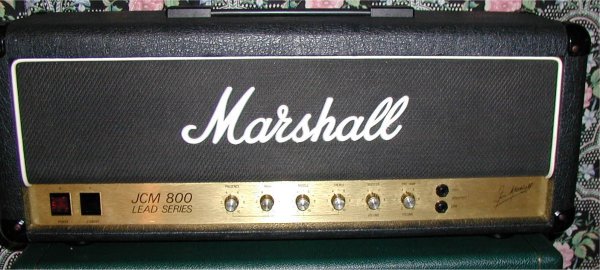 This is a US model, which means it uses 6550 output tubes. While everyone and their brother seems to prefer EL34s or perhaps KT66s in their Marshalls, (including me), I quite like how the 6550s keep the sound tight and chunky in this amp, even when severely cranked!
Notes For home-brewers:

I have drawn up a schematic for this amp (pdf) (gif), which shows wire colors and voltages. It also shows the internal connections for those mysterious Marshall rotary impedance and voltage selectors.
The chassis measures 27 inches long by 6.5 inches deep by 2.5 inches high (686 x 165 x 63.5 mm).
The cabinet measures 29 inches long 10 13/16 inches high by 8.25 inches deep. (737 x 275 x 210 mm).

Here are a close-up of and a wiring diagram for the input jacks.
Here is a voltage chart.
Here's some Marshall amp porn for those who enjoy such things ;-) Click on the small pictures to see the larger versions.
| | |
| --- | --- |
| | The rear view. |
| | The chassis top view. |
| | The Drake OT - still shiny! |
| | The left side of the PCB and associated parts. |
| | The right side of the PCB and associated parts. |
| | A close up of the selector switch wiring. |
| | The inputs and nearby front panel controls. |
| | The rest of the front panel controls. |
A few MP3s
Stereo, one side is the close-miked Weber, the other side is the close-miked Celestion. I used my Gibson ES335TDW straight into the High input, a little post-processing with Wavelab Lite. No do-overs, captured live with all mistakes intact...