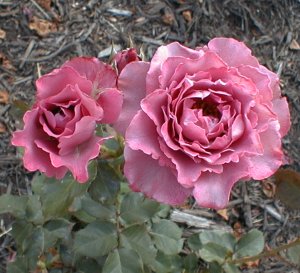 Deep lavender ruffled semi-double blooms, intense old fashioned fragrance. Dark, leathery, glossy foliage. Vigorous at first, then falters in later years. Reputed to have disease resistant foliage, but mine struggles with black spot. Even though the plants tend to be weak, it's still one of my all-time favorites.
I have (and have seen) two different Angel Face plants. One the one in the picture here, deep in color and semi-double. The other is lighter in color and almost single, sort of like Blueberry Hill, but has the same Angel Face habit and fragrance.
A Gamble Fragrance Award winner.